Hello, my little bookworms? How are you today? I'm here today to talk about a few small businesses you need to know if you like Middle Earth.
I love these shops although I haven't bought from all of them. But their products are amazing.
How wonderful it is to buy products about the extraordinary Middle Earth and at the same time we push small businesses up? Okay so without further ado…
Disclaimer: I have not received any kind of payments from any of these shops in order to post them here. It's all done voluntarily just because I like these shops.
In the Reads
In the Reads is this amazing shop sells the most beautiful bookmarks, maps, and pins. Honestly, I'm OBSSESED with this shop. And Lauren (the owner) is the sweetest. True, I'm a rep for this shop but that's not why I'm putting it on the list. I genuinely love it. Either way, if you use my code: LIN10 you get the chance to save some money (the code is only for purchase made from the website)
The Last Kindly Home
This lovely shop sells the most wonderful candles and the most amazing boxes. Yes, boxes filled with products about fictional universities about Middle Earth. I mean, how marvellous is that?
Tookish Candle Company
This business has several different candles and wax tarts with wonderful scents about Middle Earth! It also has pub glasses! This shop also has reps, so make sure to check their IG profile to use one of those if you want to save some money.
Irewolf
This shop sells candles, mercantile, curiosities and antiques. Not everything is Middle Earth but most of it is or at least has the vibe. It's absolutely gorgeous! I'm not a rep for this business but it does have. So, make sure to check their IG profile so you can save some money if you want.
Leaf and Lore
This lovely shop sells candles, mugs, and literary apparel. Everything is so beautiful you'll want to buy everything! It has products from different fandoms like LOTR, Narnia, Harry Potter and several classics.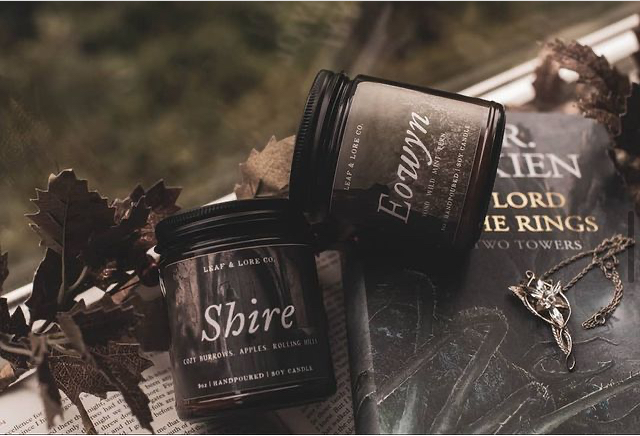 A Hobbit's Pin
This is a small business that sells mostly pins and clothes, and they're so pretty! If you like pins and Tolkien you just can't miss this shop!
I know that there are SO MANY more shops that the world needs to know. I'm sure I'll update this list in the future. But if you know or own any small business related to Middle Earth, please put it in the comments or send me a message!
Did you know these shops? Will you be buying from them?
love, Lin