Hello beautiful people! I hope you're having a wonderful day. I'm back and I'm bringing this review of this lovely book by Catherine Walsh.
✔ small town
✔ Irish countryside
✔ opposites attract
✔ he falls first and hard
✔ found family
✔ HEA
The Matchmaker by Catherine Walsh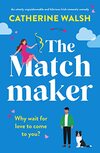 This book was a delightful and lighthearted romance. Perfect for when you want to read something lovely, simple but fun, romantic, with great chemistry and lovable characters.
Katie, our FMC, was such a fun character. She had the funniest inner dialogue and, at times, quite relatable. Katie is so happy and content with her simple but lovely life in a small town and doesn't have huge ambitions to take over the world. I loved that so much because it is not something usual in books. It's absolutely wonderful if you like your life as it is.
Callum, our MMC, is such an easy, nice, and lovable man. He knows what he wants and shows it. I LOVE THAT! He makes it clear and doesn't beat around the bushes. He is definitely a keeper.
The plot about Katie fighting against a big construction company, because they'll destroy her small town was fun to read. The whole matchmaker festival was also so cute and entertaining.
If you're in the mood for a cute, lighthearted, and fun romcom, this is the one.
Thanks to NetGalley and the publisher for giving me an eARC of this book in exchange for an honest review.
Would you read this book?
love, Lin