Breathtaking by Courtney Turcotte Bond
Hello again, my beautiful bookworms! How was your week? Mine was fine. It wasn't the best but neither the worst.
So, today I bring you a review of a beautiful contemporary fiction YA debut that, in my opinion, you should definitely read.
First of all, I want to thank Courtney Turcotte Bond for kindly give me a copy of her book in exchange for an honest review. Therefore, this review it's my honest, true, and voluntary opinion.
*takes a deep breath* Honestly, I'm not even sure how to write this review. All that I know it's that this book took my breath away (literally, because I was sobbing!) It was so beautiful, inspiring, pure, poignant and real.
I read the synopsis of Breathtaking a couple of months ago, and, to be honest, I didn't remember what it was about. But I knew it had caught my eye. So when I started reading it I had no idea where it was leading me or what it was exactly about. However, this book captured me from chapter one.
This novel follows the life of Cara during her childhood, adolescence and early adulthood. Cara's a lovely girl with some family issues but with a passion and talent for writing and an amazing friend, Adam, who helps her forget all the bad things. But when Cara is faced with a heartbreaking and life-changing situation, she is unable to write again. Something that was always her escape. Would she be able to write and find joy again?
I loved the way Courtney wrote from a child's perspective that honestly had me smiling so much! And then, she did amazingly by writing from a teenager's point of view. She really captured the struggles of a teenager. You feel the changes and growth Cara faces, and you really get to connect with her and her friend Adam.
This does have a The Fault in Our Star vibe but is also so different. Where John Green's was romance-focused, this one is friendship-focused and it's so beautiful. There's romance but the romance is also focused on friendship and companionship. Something I think it's so important in a romantic relationship.
This give me such a Cara & Adam vibe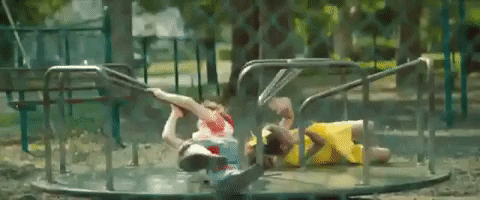 I loved every single character. The good and the bad ones. 'Cause you when you hate a character it's because it's well-written and you connected with the story. And for me, that's a good book immediately.

I loved Cara so much. I was a bit scared she'd be annoying (more below). But I connected so much with her, with her pain, her struggles, her joy, her hunger for life, her love. Plus, I love "Take My Breath Away" too, Cara.
And Adam, my goodness! I can't tell you how much I loved this character. I mean I loved Cara immensely. But if you read this book (and please do!) you'll understand why I love Adam. He was such an inspiration. His tenacity, his true heart and honesty. He was just such a lovely character.
Also, this novel has so much poetry in it. So if you like poetry, you're going to like this one. I love poetry so this was the cherry on the cake for me. I usually hate snobs characters that they think they're better than the rest. Something that happens often with artists. So I was a bit afraid Cara was going to be like that but no. She's so down-to-earth but still has that tender, nostalgic, passionate heart.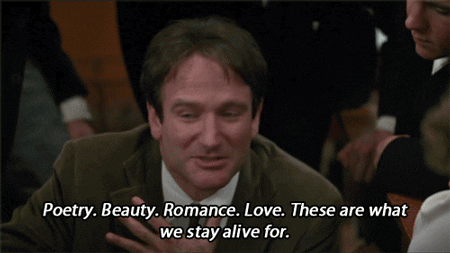 So I don't want to give away much about this beautiful book. I think you should experience it for yourself. But all I'm going to say is that I cried so much. I don't know if it caught me off-guard or what. But girl, I cried my heart out. I was SOBBING! And you can call me weird or whatever you want. But if a book makes me cry, it's because it was a great book. And I love that.

I just want to say this is a graphic description of me reading this book.
So, if you haven't read this book please go and buy a copy because it's just beautiful.
Can't wait to hear your thoughts!
Love, Lin