Hello, my little bookworms!! How are you doing today? I've been super busy but always trying to make time for good books. And today is publication day for this AMAZING novel. If you like romcoms, you NEED this one.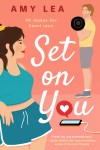 Pub. Day: 10 May (US) 12 May (UK)
Did you say biracial rep, body positivity, curvy heroine, Chris Evan look-alike, nemesis-to-friends-to-lover, and fitness romance?? Yes, yes, and yes. This book has all of that and more!
Thanks to NetGalley and Penguin General for the copy of this book in exchange for an honest review.
What is it about?
Curvy fitness influencer Crystal Chen built her career shattering gym stereotypes and mostly ignoring the trolls. After her recent breakup, she has little stamina left for men, instead finding solace in the gym – her place of power and positivity.
Enter firefighter Scott Ritchie, the smug new gym patron who routinely steals her favorite squat rack. Sparks fly as these ultra-competitive foes battle for gym domination. But after a series of escalating jabs, the last thing they expect is to run into each other at the most unexpected place.
Ah, this book! I cannot begin to describe how much I loved it. It was funny, cute, witty, meaningful, and with just the perfect spice. It got me laughing out loud more times than I thought I would. The romance was adorable. And their friendship, banter, and flirting were so cute; they got me awwing and smiling so much!
Crystal is such a wonderful character. She's strong, confident, human, authentic, and perfectly imperfect. She's someone I'd definitely be following on Instagram! Scott is the perfect sexy cinnamon roll. I was a bit irritated with him initially, but oh-how my opinion changed. He's the cutest, most thoughtful, kindhearted man out there. And yes, he looks like Chris Evans.
I also loved Amy's powerful and beautiful message about body respect and self-acceptance. And how she connects it to someone being mixed-raced as Crystal. These kinds of messages are so important and we need more of them. Thank you Amy for writing it in such a natural and beautiful way. I know many people will be able to connect with the story from this point, finding it relatable.
There's honestly nothing I didn't love about this story. Even when the main characters were starting to be a tad annoying, they handled the situation maturely. Just go and read this please, you won't regret it. As for me, I can't wait for Tara's story!
Tell me, would you read it?
love, Lin